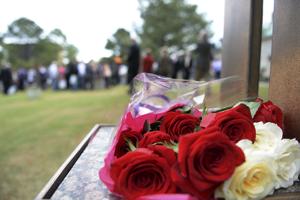 Posted:
Sunday, April 19, 2015 10:18 pm
It's not fair for us, a group of college students, to pretend to understand the pain of April 19, 1995.
Even those of us who grew up in this state cannot act like we fully comprehend what it means.
But maybe the beauty from these ashes, the sermon in this tragedy, is that not only do we all know of this event, we all know someone who knows better than us. We might not feel to the degree that others feel, but we know the emotion and the importance behind commemorating the 20th anniversary of Oklahoma's darkest hour.
We might not completely grasp how the bombing has shaped and changed this state, but every day we live in a place that has rebuilt and grown and transformed into the home we do know so well.
This is what the Oklahoma City Bombing means to us:
"My dad was a couple blocks from the building, and it was terrifying. He told me when I got older that the entire building he was working in shook. When I think of the bombing, it saddens my heart. Even though I'm lucky that I didn't lose a loved one, I remember the tragic event along with those who did."
— Rachael Maltby, photo editor
"I visited the Oklahoma City Bombing Memorial as a teenager on one of my first trips to Oklahoma with my family. When I began to fully understand what happened that day, I realized how strong the people of Oklahoma are. I have seen that proven time and time again, especially after the Moore Tornado in 2013. The people of Oklahoma are strong, caring and great."
— Paige Worley, digital editor
"When the Oklahoma City bombing occurred on April 19, 1995, it shook both the state and the nation. At that time, it was the largest terrorist attack on U.S. soil. But what came from the horrifying experience continues to define Oklahomans today: Resiliency."
— Tim Ahrens, sports editor
"
I didn't grow up in Oklahoma, and I wasn't even born by April 19, 1995. My mom was pregnant with me at the time and has told me how scared she was for the families of those inside the Alfred P. Murrah Federal Building. But that day, a different family came together as Oklahoman displayed strength, courage and love, unifying the state in a time of tragedy. I likely will never fully comprehend what happened that day, but I am honored to be a part of this Oklahoma family that continues to show those same traits 20 years later."
— Nathan Ruiz, assistant sports editor
"
I never cease to be amazed by how strong Oklahomans are. As someone who grew up in Dallas, I had limited knowledge of the OKC bombing. My reaction to gathering knowledge of what happened and what followed was a familiar feeling. It's the same way I felt when I saw Oklahoma come together following the second Moore tornado and when OSU united to honor a pair of fallen Cowboys. After tragedy, Oklahomans only know how to come together and help each other rebuild. As former President Bill Clinton said, "… we should all live by the Oklahoma Standard — service, honor, kindness."
— Kieran Steckley, chief content editor
"I was only 2 when a bomb went off near the Alfred P. Murrah building in Oklahoma City. I don't remember where I was or what I was doing, but I do have memories of growing up with people who do.
"My earliest memory of the tragedy comes from when I was 8. Living in Edmond, my parents' landlords told me how their house shook from the explosion. What I remember most from the story is how quickly they reached out to help victims and their families. They weren't trained first responders, and they didn't know anyone affected by the bombing. They were just average residents who wanted to help their neighbors. I've come to learn this kind of reaction is the norm, not the outlier.
"For all of our faults, we will always look after each other in times of need."
— Kassie McClung, managing editor
"Growing up in Oklahoma, I've been reminded of the despicable tragedy that occurred on April 19, 1995, every year for as long as I can remember. The details still faze me. The photos are still jarring, and I am still unable to visit the memorial without tearing up. The tragedy still breaks my heart. Each year, the anniversary also serves as a humble reminder to cherish the moments I have with my family and friends and never take those moments for granted. It's also an opportunity for me to reflect on the strength of my city as I've watched it grow and bounce back over the 20 years of my life. I am proud to be from such a resilient community, and I will never forget."
—
Kaelynn Knoernschild, news editor
"I was not even 2 years old and had no concept of what suffering was when 168 people died as a result of another man's madness. I didn't know much about the events of that day and what happened in the aftermath until I came to Oklahoma three years ago.
"Since, I've come to know incredible people whose lives have been impacted by that day. I've lived for a summer in Oklahoma City, seen and experienced the beautiful place that has risen from the rubble. Those 168 are not forgotten. They are everywhere. The memory of the bombing and those who died that day is omnipresent."
—
Cody Stavenhagen, editor-in-chief
opinion@ocolly.com